Come on in, the door is open!
I am writing this post, because so many of you have commented on the use of lamp shades on my table. I have been using these for a long time. They add height and ambiance to your table.
I love large accessories in our home, so I tend to buy larger scale items, so they really show and don't get lost. Tall hurricanes, tall candleholder and candlesticks work perfectly.
I buy the lamp shades at our local Ross store, because they are so affordable and pretty.
They come in all different sizes, so they can be used for those narrow vases and candlesticks.
It's a matter of just setting the lamp shade on top of your chosen vessel.
Here is lamp shade I used for the Autumn tablescape. I love the look of it, since it has the wood grain.
My beautiful silver large hurricane I bought from home Goods is what I used for the base.
You can see in the photos below I used shorter amber colored candle holders.
You can use vases too...anything for height and it allows you to add a lamp shade.
This picture shows a fun zebra print lamp shade. I added an led light to make it glow.
I also use fairy lights which add a fun lighting effect. They are very affordable. Look for them at any craft store or a store like Marshalls. They are called different names. I have some called Starlights
I paid $4.99 for a box with 6.5 feet.
They are perfect accent for Holiday decorating, on mantels, table centerpieces, vases, trees and topiaries. They use AA batteries and have a timer.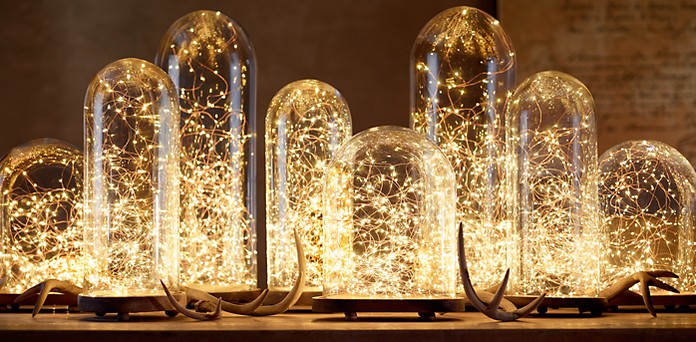 Source
Another look below.
Fill your vases with pretty accessories, candles and more.
Use trumpet vases or fluted.
To turn tall candlesticks into a candle lamp, use a follower and led votive candle.
they are also called candle lamp shade holders. I learned this from Alycia from Table TwentyOne.
To construct a tabletop lamp is by using a vase for the base. It adds girth and flair and it really opens up your choices! With the wider mouth of the vase however you may need to add a clear plastic or glass plate that is wider than the opening to keep the shade from sinking down. The larger the plate the taller the shade will stand. The plate is also a good spot to place your LED votive. For something a little different I like to place the LED votive upside down. Doing so allows both illumination of the shade and a reflective glow in the glass vase. Using a colored LED votive will produce a soft gel effect.
I hope this helps explain how I use the lamp shades on my tables.
Happy experimenting!
Sign up with your email address to receive the latest updates straight in your inbox.